So many people are familiar with the Newman's Own company that was founded by Paul Newman.  Newman's Own® Organics: The Second Generation® started as a division of Newman's Own in 1993 by Nell Newman and her business partner, Peter Meehan.  It became a separate company in early 2001 and is now a flourishing company with growing products lines.  After the success of their pretzels, the Newman's Own® Organics snack line expanded to include items like chocolates, cookies, licorice, and dried fruit. In addition, Newman's Own® Organics also offers products such as coffee, tea, olive oil, balsamic vinegar, and pet food. Newman's Own® Organics products meet the USDA's National Organic Program requirements. Just as the Newman's Own company, this eco-conscious company also donates to educational and charitable organizations worldwide via the Newman's Own® Foundation.
Okay, so let's just say that the day this box arrived my children were besides themselves!!!  I was not expecting to receive so many delicious treats.  They insisted on helping me unpack the box.  We emptied the contents onto the table and they looked at each and every package changing their minds as to what they wanted to eat first.  As you can see there were so many products to try.  We had such a hard time deciding but I will share what we decided were our favorites with you.
Austin loves sweets, but he also is a huge pretzel lover.  He decided to go with the organic pretzel sticks as his choice.  We have had the Whole Wheat pretzel from Whole Foods, so without a shadow of a doubt I knew he would enjoy them and that he did!
Addie had such a hard time deciding what she wanted to try.  Chocolate is one of her favorite foods, so with the decision of so many chocolate cookies, chocolate bars and even their ABC cookies, she debated for quite a while.  She settled on the Dark Chocolate Bar and was more than happy with her choice.  (She didn't much enjoy me taking it away from her after she ate two pieces however).
Hubby was an Oreo lover before we started eating organically.  When store-bought organic treats come into our home, he gets excited.  He is a cookie dunking kind of guy.  We received a package of the Newman's O's in Peanut Butter, Mint and Ginger.   Although I enjoy Ginger, the Ginger's O's sounded the least appetizing to me and turned out to be my absolute favorite!    They had a perfect combination of ginger and sweet, you have got to try them!  Hubby reached for the Mint first and to be honest, enjoyed all the varieties.
I did really enjoy the Ginger O's and then their would be a tie between the Dark Orange Chocolate Bar and the Dark Caramel Cups.  Both were absolutely divine.  The chocolate is not overly sweet but has just the right combination of sweetness and bitterness that comes with really good chocolate.  It is smooth and melts perfectly.  Need I say more?
The licorice was also a favorite, there were so many!  Who knew a 2-year-old would love black licorice?  My son at two got a hold of black licorice (which my Mother loved) and loved it!  The children's didn't care so much for the sour licorice, but not because of the flavor, more because of the texture on the outside of the licorice.  It had great flavor (Mango was my favorite) if you have someone in your home who has a taste for sour sweets.
If I am going to feed my family convenient store-bought snacks it will be organic store-bought snacks.  Although we had tried the pretzels and even the ABC Alphabet cookies in the past, I had no idea the vast variety that Newman's Own Organics offered.  We truly enjoyed the variety and loved trying out all these new treats thanks to Newman's Own Organics!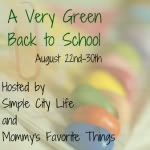 Newman's Own Organics will be sponsoring our A Very Green Back to School by offering one Frugal Greenish Mama reader a few of the yummy treats that I received .  This giveaway event will begin on August 22nd so be sure to check back with us to enter to win!    To get a head start, be sure to stop by and like
Newman's Own Organics on Facebook
and then
visit their website
and tell me which product you are most interested in trying out if you win!
I received samples from Newman's Own for review purposes.  All opinions expressed are 100% those of myself and my family.