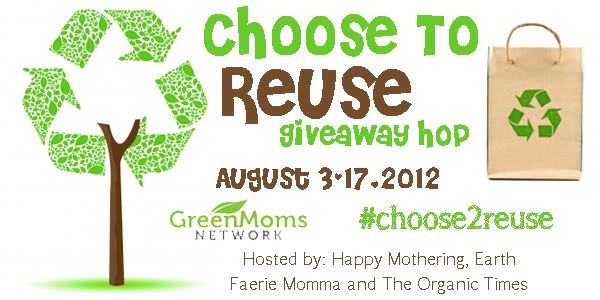 Thank you for joining us for The Choose To Reuse Giveaway Hop!  This wonderful event is hosted by 
The Organic Times
, 
Happy Mothering
 & Earth Faerie Momma.  There are many blogs participating and each one of them has a giveaway worth $25 or more. T his event will end Friday, August 17th at 11:59pm EST. After you enter my giveaway be sure to hop on over to the other blogs!
Win an Up-Cycled Bag from the Barn Yard Bag Ladies
Here at the Frugal Greenish Mama we are giving away a very unique bag from the Barn Yard Bag Ladies!  These bags are truly reused and up-cycled in every way!  Handmade in Atlanta, Georgia, these unique bags are handcrafted from recycled plastic feed and seed bags.  They make unique messenger bags and tote bags from the heavy duty, flexible plastic type fabric that would otherwise be trashed.  Since the varieties that they have available are constantly changing, so does their selection!
The handles are made from Jute straps and other upcycled fabrics that are double stitched for durability and comfort.  The inside of each tote has a removable fabric covered recycled cardboard bottom panel.  Most of the fabric covers are made from  repurposed table napkins.  The fabric is washable, and cardboard is replaceable so they are easy to care for.  Speaking of easy to care for, if they need cleaned, you can just spray them down with your favorite cleaner or vinegar and wipe them out.
I love the creativity that Janice and Cindy, the two lovely ladies behind the Barn Yard Bag Ladies have shown in starting their business!  They are not only making a useful product but using up-cycled and repurposed materials also, what could be better?  That they are super cute too!
They search their local area for unique feed and seed bags to turn into these gorgeous bags!  If you are an animal lover or have a small farm and have access to cute feed bags, why not connect with the Barn Yard Bag Ladies.  They could make you a real treasure!  If you a looking for a unique gift for an eco-minded family member or friend, be sure to check out the bags that they offer on their website.
I was provided with this adorable chicken bag.  We actually two hens that look just like the bag so the kids loved it!  It is so durable and I can see will quickly become our favorite reusable bag!  I can't wait to pass along where I received my bag from.  You can tell just how much these two ladies love the environment.  When I received my bag is was packaged in the portion of the feed bag that is not used, so they even use repurposed methods for shipping the bags as well!
Connect with Barn Yard Bag Ladies
You can support the Barn Yard Bag Ladies upcycling adventures by visiting their
website
and connecting with them on
Facebook
!
Disclaimer: The Frugal Greenish Mama and the other Choose To Reuse bloggers are not responsible for unfulfilled prizes.  I was provided with a bag from the Barn Yard Bag Ladies at no charge for my review.  All opinions expressed are 100% my own!
');
// ]]>