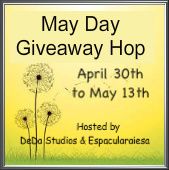 Welcome to the May Day Hop hosted by Deda Studios and Espacularaiesa. Each participating blog will host a giveaway with a prize package of at least $20.00. The May Day Giveaway Hop will run from April 30th 12:01AM EST to May 13th 11:59PM EST.
OSM is a company dedicated to sharing information that educates consumers and offers natural, safer and smarter alternatives. OSM is the parent company for a few different environmentally friendly brands- Garden Guys and Dragonfly Organix. They were kind enough to send me a variety of their products to try out. Each of these products was created to help you achieve a healthier home and garden. They are also our sponsor for our May Day Hop!

Garden Guys Garden-Neem is an environmentally friendly alternative to chemical insecticides and fungicides. This naturally derived formulation effectively controls common bugs, tree and shrub bugs, flower bugs, vegetable bugs, houseplant bugs and powdery mildew.  Since we are just starting real gardening at our house, we have not yet had the need for this yet, but know that it will be coming and can't wait to give it a try!
Dragonfly Organix All-Purpose Cleaner is a safe and is an environmentally preferable alternative for cleaning that contains no petroleum solvents. Dragonfly Organix All-Purpose Cleaner can be used really in all areas of your home.  I like that it doesn't smell so over-whelming.  I like to know that my house is clean, without all the trace "clean" smells that come with all the conventional cleaners.
I was most excited about trying this product out!  Not that soap and water don't do just fine, but I was curious.  The Healthier Homestead Egg Wipes feature a USDA BioPreferred plant-based formulation that gently cleans your farm fresh eggs.  One cloth can clean up to a dozen, eggs depending on the soil level. Simply clean the eggs with the soft biodegradable cloth, and they are ready to store.  Your used cloths can be added to your compost bin.
The Dragonfly Organix Odor Eliminator is a unique plant-based formula that eliminates the toughest odor problems.  We tried this on an old smelly pair of shoes we were donating and it works really well.  It almost seems to absorb the smell.  Since I don't use conventional cleaning products this is nice to have on hand.
They even host Green Revolution Radio where the Garden Guys discuss the latest products, methods and ideas for "green living" in an effort to make the world in which we share safer for present and future generations.
If you're in Boston, you can join them on Sunday mornings from 7am to 9am on 96.9 FM WTKK Boston Talks. They also stream live online while they are airing, so you can still connect with them here, or you can download their podcasts here.
To connect with OSM visit any or all of their social media pages:
OSM has generously offered to provide on Frugal Greenish Mama reader, the above package as well.  Simply click on the Read More to see the Rafflecopter below to enter!  After you enter my giveaway, be sure to check out some of the other amazing bloggers and their giveaways!

a Rafflecopter giveaway
Disclaimer:  I was provided the above products for my review.  No other compensation was received.  All opinions are those of myself and my family. The Frugal Greenish Mama and the May Day Giveaway Hop Event Bloggers are not responsible for sponsors that do not fulfill their prizes.