This post brought to you by Atlantic Luggage. The content and opinions expressed below are that of Our Homemade Life.
My family has enjoyed traveling this year more than we have in quite some time. The kids love to venture and explore, see new sites and experiene new things! I think they must have gotten that from their Mama. So when I was asked to share how to Enter to win a family trip from Atlantic luggage, I couldn't say yes fast enough!
On our second summer road trip my son proclaimed out next road trip needed to be to Alaska! Although it is our dream to make it to Alaska…someday! We have several more destinations we plan to visit first.
One thing that I learned this summer traveling with all three children is the need to be prepared! Being prepared can make your trip run more smoothly when it comes to traveling with children.
Here are a few of my packing tips to help make your adventures stress-free!
Do bring a stroller. Many will tell you not to worry with a stroller but I will say my experience is the opposite! A stroller was my lifeline on our trip to the Chicago and Disney. If you are hesitant, bring an umbrella stroller that doesn't take too much room. If you are flying, strollers are usually free and can be checked at the gate.
Don't check essentials. Since I packed all of us in one bag, if that bag was lost it would have been devastating. If you can handle a carry-on, put a change of clothes and all your essentials in your carry-on. I out a change of clothes for each of us in a ziploc bag and in my diaper bag for just in case. Medicines, laptops and cameras would also be items I would never check.
Bring laundry soap & baggies. Especially when you are packing minimally, planning to do some laundry will allow you to not worry if an outfit gets dirty (because it will happen!). For a ten day trip I packed four outfits for each of us and washed. If there are not laundry facilities where you are staying, hand wash and hang them to dry. Baggies come in handy in more ways than you can ever imagine, bring some!
Do pack snacks & water. This is a no brainer but make a few exceptions and give the kids a few treats you normally wouldn't to save your sanity. Pack lollipops for waiting in long lines and hard candies to suck on while on the plane. Staying hydrated is essential for your health but also for their moods.
Keep the toys simple & engaging. It is easy to over think and bring way too many things to keep the little ones busy. Try to pack things that don't take too much room but can be rather open-ended for play. A small pack of legos, a small notebook with pencils or crayons, and ok an electronic device with learning games and a few videos is a must to! Engaging toys help pass the time and keep their minds stimulated.
Don't expect perfection!
The world around us as so much to explore, what is your next dream family travel adventure?
Enter to win a family trip from Atlantic Travel!
Want to take your family on a trip to the East coast? New York maybe! What about the West coast? San Diego is beautiful! Atlantic Luggage company knows a thing or two about family travel. They create luggage that is lightweight, versatile and have an awesome selection that is makes it ideal for family traveling.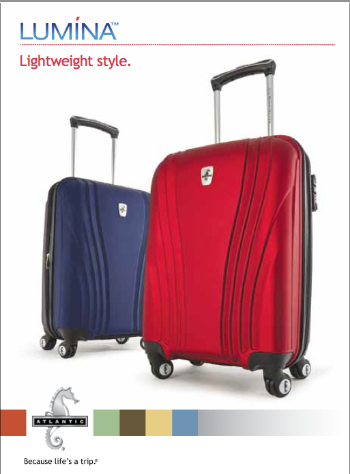 How To Enter and Details:
The sweepstakes runs from October 15 through November 15. The winner will be chosen within 7-10 days following the close of the sweepstakes. The grand prize trip must be booked by 9/30/15 and travel must be completed by 10/31/15.
The Grand Prize is a family trip for four to New York or San Diego, courtesy of Atlantic Luggage and Delta Vacations!
Grand Prize package trip certificate is valid for: (a) round-trip economy air transportation valued at up to $450 per ticket for the Grand Prize winner and three (3) guests from a major U.S. airport serviced by Delta Air Lines near to the Grand Prize winner's home (as determined by Sponsor), to a major U.S. airport serviced by Delta Air Lines near New York City or San Diego, CA (as chosen by winner and determined by Sponsor); (b) hotel accommodations at a participating Delta Vacations hotel in New York City or San Diego, C; (c) four (4) Atlantic® carry-on sized suitcases; and (d) $300 allowance to spend on their choice of Delta Vacations Tour or Activity packages. Trip is to last three days and two nights. Total prize value of $3,700.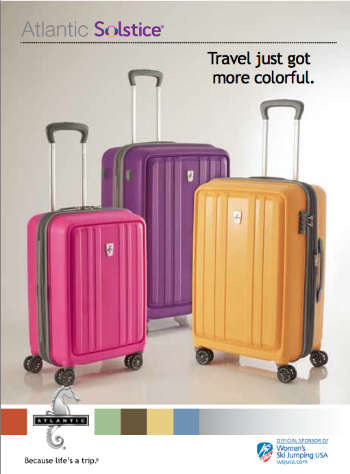 Enter to win a family trip that will create lasting memories!