If you are a Mama with children around my toddler's age, then no doubt you know exactly who Super WHY is!  Super WHY is a PBS show that features SuperReaders!  I love that they intagrate reading with solving problems.  My children go around saying, "Super readers to the book club!" all the time.  Anything that encourages education through fun activity it awesome in my books.
Super WHY is the only preschool property created to help kids learn the fundamentals of reading through interactive storybook adventures.  Produced by Out of the Blue Enterprises in conjunction with DHX Media, the series has a groundbreaking multimedia aesthetic – with a winning combination of two- and three-dimensional animation formats, relatable and engaging characters and immersive environments.  The program represents a novel approach to preschool educational television, featuring a team of superhero characters with literacy-based powers, who jump into books to find answers to everyday preschool challenges.
My children are beyond excited as we will be seeing the show in Memphis, TN on July 22nd at the Orpheum Theatre!  We are going to start looking for awesome local events we can enjoy as a family around Arkansas and we are so excited this is just next door in Memphis, TN.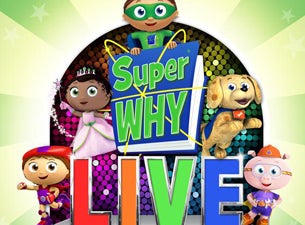 About the Show-Super WHY Live!
The message in Super WHY Live: You've Got the Power! is that we can do anything we want to do and be anyone we want to be. Audiences will join Super Why, Wonder Red, Princess Presto, Alpha Pig, and Woofster, as they realize their dreams while searching for the answer to the question, "Who has the greatest super power in the world?"
Showcasing cutting-edge technology, visual effects and aerial stunts, Super WHY Live is a sensory spectacular that will dazzle and delight audiences of all ages. The new production features a team of top talent, including a Tony Award-winning scenic designer and an Emmy and Tony Award-nominated lighting designer, who create a mesmerizing setting for the show.
Behind the Scences
Super WHY Live! Behind The Scenes: Songwriter Jack Antoff of the band fun
Dates & Locations-Super WHY Live!
Here are the opening dates of the tour but don't worry if they are not near you yet!  More dates and locations are to come!
Wednesday, July 18 Monroe, LA
Monroe Civic Center
Get Tickets!
Friday, July 20 Birmingham, AL
BJCC Concert Hall
Get Tickets!
Saturday, July 21 Knoxville, TN
The Tennessee Theatre
Get Tickets!
Sunday, July 22 Memphis, TN
The Orpheum Theatre
Get Tickets!
Tuesday, July 24 Raleigh, NC
Memorial Auditorium
Get Tickets!
Wednesday, July 25 N. Charleston, SC
N. Charleston Performing Arts Center
Get Tickets!
Friday, July 27 Atlanta, GA
Cobb Energy Performing Arts Centre
Get Tickets!
Saturday, July 28 Tampa, FL
Straz Center for the Performing Arts
Get Tickets!
Sunday, July 29 Miami Beach, FL
The Fillmore Miami Beach
Get Tickets!
If your child is a Super WHY fan, why not consider taking them to Super WHY Live!  It will be something my children will talk about for months!
Make sure you follow SuperWhy Live! on Twitter for all updated information and new show dates!
I received tickets in exchange for this promotional post.  All opinions are those my myself and my family.   I would have posted about the show regardless, as my children are HUGE Super WHY fans!